How to package baby food – The Packaging Doctor
With so many different packaging solutions in the market, it can be a challenge for businesses to find the most appropriate materials for their specific needs. This week, the Packaging Doctor offers and alternative solution to a customers' enquiry…
Dear Doctor,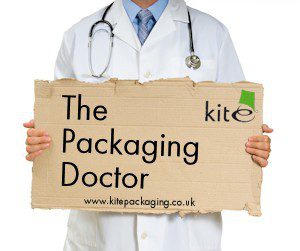 My business specialises in creating baby food, and we have created a container which we will use to pack the food. However, we need some form of packaging to cover and seal the food container.
Obviously this material must be food safe but I also would like to use materials that are environmentally friendly. The packaging must also protect the food within the container during transit and storage.
What packaging materials do you think would be suitable?
Many thanks,
Cara.
Hi Cara,
As your containers are a custom size, we are unable to provide you with a seal to be placed on top of the container. However, we have a solution that would seal the whole container which you may find more efficient.
We suggest using Polyolefin Shrink Film alongside a Desktop Shrink System which can seal the whole container of baby food. Polyolefin Shrink Film is used across a wide range of industries to seal a variety of products. It provides a higher clarity than other shrink films, ideal for presentation purposes, and creates a strong seal which is not compromised with changes in temperature, which will ensure your products remain sealed during transit and storage. Most importantly for your business, the shrink film is food safe as it contains no strong chemicals, and is environmentally friendly in comparison to other shrink wrap materials.
To seal the film, we propose using a desktop heat shrink film system, which provides you all the tools needed to effectively seal your products. Able to shrink wrap up to 120 items an hour, this efficient machine allows you to pack your products easily and ensure the baby food stays as fresh as possible until it reaches the customer.
We hope that you will consider this packaging solution and our Packaging Experts are always here to provide additional assistance!
Best wishes,
The Packaging Doctor
Note: All the packaging problems our doctor receives are real queries from customers or non-customers. If you have a packaging problem that needs diagnosing get in touch:
Twitter @kitepackaging or email packagingdoctor@kitepackaging.co.uk