How To Package Bananas – The Packaging Doctor
Packaging is designed to fulfil an array of purposes, and for those working in the food and drink industry, the chosen packaging method needs to ensure produce arrives in perfect condition, so goods are ready for retail. Manufacturers must ensure that packaging is secure, protective and cost effective.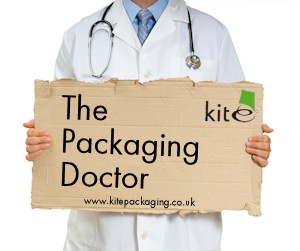 With the fast turnover of seasonal produce arriving and leaving food suppliers premises daily, careful planning of storage of these items is crucial.
Today in the surgery we meet a fruit and vegetable supplier who is limited for space in his shop. Read below how I helped provide a berry good packaging solution for them…
Hi Doctor,
My family run a fruit and veg shop, providing high quality, seasonal produce for our local area.
As we approach the summer months we begin stocking more to meet the demands of our customers, and our shop becomes extremely limited for space.
One suggestion we have come up with to help maximise the use of space in the shop, is to adjust the way we stack certain fruit and vegetables. We have decided to trial this with our bananas.
What packaging can we use to help us stack the fruit, and also protect them from bruising?
Thanks,
Jeremy
Hi Jeremy,
Thanks for your question in the surgery today. Stacking bananas is a great starting point for helping to save room, and I have the perfect solution for you.
Firstly, to ensure the fruit is protected, check out our Cardboard Sheets. This product is an inexpensive method that is commonly used by many industries to divide items, and offer supplemental product protection.
To use, begin stacking your boxes of bananas, and between each layer, simply insert a cardboard sheet. The cardboard helps support the weight of the fruit from the box above, and reduces pressure, minimising the risk of bruising.
To maximise the protection of the fruit further, add some Foam.
Foam is a flexible product that helps add protection to sensitive and delicate surfaces and items. Available in a range of sizes to suit our all of customers' needs, this product requires minimal storage space and no training.
Delivered on a roll, it is really easy to use. Simply cut a sheet of foam to size, and place on top of the cardboard on demand. The foam in this application will provide extra protection against the weight of the boxes, and reduce damage to the bananas.
There you have it. A really simple solution in the surgery today! What's great about this packaging method is that it doesn't just have to be used with the bananas. It is applicable for any of your stock that arrives in boxes or trays, and can be implemented as a long term solution to help maximise the use of space in your shop.
Hope this helps!
Best wishes,
The Packaging Doctor
Note: All the packaging problems our doctor receives are real queries from customers or non-customers.
If you have a packaging problem that needs diagnosing get in touch on Twitter @kitepackaging or email packagingdoctor@kitepackaging.co.uk