How To Package Bespoke Art – The Packaging Doctor
Here in the surgery we love opening our doors and meeting patients from industries all around the country.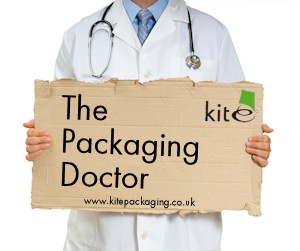 Whether we are diagnosing solutions for transporting animals to their new homes, ensuring those scrummy cupcakes arrive in perfect condition, or ensuring a bride receives her stunning wedding dress for her big day; we are always on hand to provide great, effective packaging advice.
Today in the surgery we see an artist looking to ship an expensive piece of art all the way over to Saudi Arabia! Read below how I helped provide an extremely simple, yet protective solution, and help keep costs down to a minimum.

Hi Doctor,
I am a trained artist that specialises in creating 3D art. Normally my customers travel to my workshop to collect their piece; however I have landed an amazing opportunity to send my work abroad to a new customer, based in Saudi Arabia!
The problem I face is that my art is very delicate, and I have absolutely no idea how to pack it! There are bits of material all over the piece that are gently attached, so I am concerned they will snap off in transit.
First impressions with a piece of art are so important. I need to ensure that I impress my customer and as well as making sure it gets there in one piece. I would be heartbroken if it was to get damaged.
What do you recommend?
Thanks,
Bryony
Hi Bryony,
Thanks for your question in the surgery today. Please don't fear, the Packaging Doctor is here, and I have a great solution for you. Not only can you use for this solution for this individual customer, but as a long term packing method.
Firstly, we need to ensure the art work is protected. Large bubble wrap is ideal for this.
Bubble wrap is a really popular packaging product, and is used frequently within the arts and crafting industry. Made with large bubbles, flexibility and reliability is guaranteed every time.
Simply cut to size, wrap around the frame and seal with some tape. This way your artwork is instantly protected against any dirt and dust in your workshop, and is cushioned during transit.
Using bubble wrap ensures the weight of the package is as light as possible, helping to keeping shipping costs to a minimum. This is an important consideration - you are delivering across the desert after all!
Now, let's consider the outer packaging. We need reassurance that the method we choose here will securely withstand the weight of the artwork during transit. Heavy duty mailing bags are perfect for this.
Made from co-extruded polythene and three layers of film, these bags are designed to offer maximum security and protection for large objects.
Our mailing bags are all 100% opaque to increase security, which is essential when shipping abroad, and will create that professional first impression you were looking for.
And there you have it. Not so bad was it!?
Hope this helps!
Best wishes,
The Packaging Doctor
Note: All the packaging problems our doctor receives are real queries from customers or non-customers.
If you have a packaging problem that needs diagnosing get in touch on Twitter @kitepackaging or email packagingdoctor@kitepackaging.co.uk