How to package books – The Packaging Doctor
Finding packaging to protect items in the most effective way is crucial to fulfil orders and deliver high levels of customer service, especially when posting high value or delicate goods in the post or courier network.
In the surgery this week, The Packaging Doctor helps a customer to find packaging solutions for the books he is publishing…
Dear Doctor,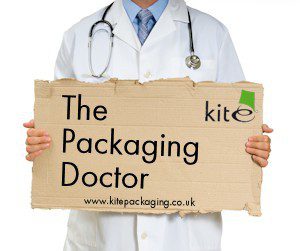 We are publishing a book that will retail for £30.00, and we want a packaging solution that will protect the product as we will be sending the books out in the post to customers. As the retail value is quite high, we would like the packaging to be secure but also lightweight to keep postage cost reasonable.
What are the possible solutions that we could use?
Thanks,
James
Hi James,
There a number of ways you could pack your books to ensure they arrive safely to your customers, whilst keeping the costs of postage low!
One option is to use our cardboard book wrap mailers, specifically designed for books, printed materials and other items such as DVDs. Manufactured from corrugated cardboard, the mailers are multi-scored to accommodate various thicknesses of books so that they can wrap closely around the product, providing great protection in transit as the books won't move around within the package and the corners will be protected.
To provide security, each book wrap mailer has a very secure peel and seal strip. A tear around strip is featured to make removing the contents from the mailer easy for customers when they receive their parcel. The majority of our book wrap mailers also meet the Royal Mail PiP guidelines for small parcel, so you can calculate your postage costs accurately.
Alternatively, you may be interested in using our weather-mailers. These are an all-in-one, cost effective postal solution as they combine the bubble lined protection of bubble wrap and the protective qualities of polythene mailing bags. The strong 85 micron outer polythene offers perfect weatherproofing and tear resistance, and they are secured with a peel and seal strip to ensure a secure sealed package.
Our Packaging Experts are able to send you samples of the products for you to test with your books and help you to decide which solution is the most suitable for you, and are happy to offer more advice and product information!
Best wishes,
The Packaging Doctor
Note: All the packaging problems our doctor receives are real queries from customers or non-customers. If you have a packaging problem that needs diagnosing get in touch: Twitter @kitepackaging or email packagingdoctor@kitepackaging.co.uk