How to package bottles of wine – The Packaging Doctor
With such a large variety of packaging materials to choose from, here at Kite we aim to offer customers all of the information and choices available to ensure they can select the most appropriate packaging solution for their business.
This week, The Packaging Doctor provides some advice to a customer looking to package bottles of wine.
Dear Doctor,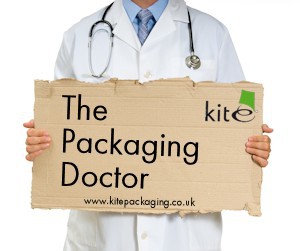 I am interested in finding out more about Double Wall Cardboard Sheets. I own an online wine merchant and need to protect the bottles that I send out to customers.
I was looking at using cardboard sheets as opposed to polystyrene loose fill chips as I believe they will be more efficient for customers to dispose of.
Do you think this is a suitable packaging solution or is there something else that you could recommend?
Many thanks,
Holly
Hi Holly,
Loose fill chips are ideal for protecting a range of products, particularly when void fill is required, however we feel for your requirements we can offer you a more suitable solution.
Double Wall Cardboard Sheets are ideal for creating strong dividing walls in cartons, and can be cut to the size you require, to ensure that they provide protection for the wine bottles within the boxes.
However, due to the nature of your business, we recommend using Kite's Air Shock Bottle Packs. Specifically designed to protect glass bottles, this lightweight, inflatable cushioning packaging provides excellent shock absorption and is a cost effective replacement for other packaging materials such as polystyrene or foam.
Available in one, two or three bottle packs, the Air Pouches can be purchased with or without an outer box, and are delivered flat ready to be easily inflated using Kite's Air Compressor, Inflation Kit or Hand Pump
One of our packaging experts has sent out samples of the Air Shock Bottle Packs to you, so please take the time to consider this excellent packaging solution. You will receive a call soon to find out what you think and we will answer any other questions you may have.
In the meantime, our friendly packaging experts are available if you require any further information!
Best wishes,
The Packaging Doctor
Note: All the packaging problems our doctor receives are real queries from customers or non-customers.
If you have a packaging problem that needs diagnosing get in touch:
Twitter @kitepackaging or email packagingdoctor@kitepackaging.co.uk