How to package canvas paintings – The Packaging Doctor
Packaging is used to protect products during transportation, especially delicate, hand-made items that need to be handled carefully.
Today in the surgery we meet a customer who needs to find a better way to protect his artwork.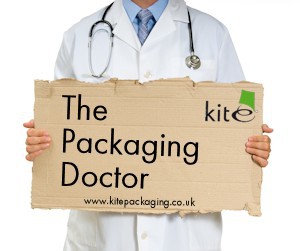 Dear Doctor,
I paint large canvases, and I'm having difficulty transporting them safely without the work getting damaged. Currently, I put a blanket over the front of the paintings to protect the finish, but this is proving to be ineffective.
I am looking for a new solution to protect the canvases during transit. I will require packaging that is 600mm wide by 700mm long.
I hope you can help,
Chris
Hi Chris,
With such delicate work such as paintings, it is important to provide appropriate packaging in order to avoid damage during transit.
For your large canvasses, we suggest using Kite's extra-large picture frame boxes. Designed to pack flat items such as paintings, these boxes are made from strong, double wall cardboard, with a Kraft paper outer that provide puncture and tear resistance. Furthermore, these boxes have telescopic lids that enable the box to fit snugly around the artwork – preventing damage that can be caused by movement and vibration in transit.
You may also want to use Jiffy foam roll to wrap around the painting before placing it into the box, to provide an additional level of protection. This foam is non-abrasive and leaves no residue, which is ideal for protecting a delicate surface like painted canvasses.
These packaging solutions should help prevent damage to you work during transportation, and ensure your work arrives in perfect condition!
Best wishes,
The Packaging Doctor