How to package cleaning chemicals – The Packaging Doctor
Here in the surgery, we aim to provide the most suitable packaging solution for all of our customers, no matter what products they need to pack. This week, we help a customer to package cleaning chemicals to ensure they are well protected during transit...
Dear Doctor,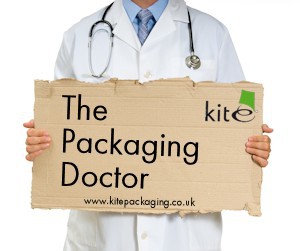 I sell a variety of chemicals that can be used to clean dishwashers, glass and drains.
I am looking for a method to protect the plastic bottles that the chemicals are packaged in, as recently we have been experiencing leakages.
Not only is this a concern, but I also want to pack the bottles in boxes of 4 and cannot risk any leaking chemicals mixing with other products.
What do you think would be best to use to ensure the bottles arrive safely and the risk of chemicals mixing is reduced?
Regards,
Liam
Hi Liam,
Considering the nature of the products you sell, the solution we propose would help to ensure that the chemicals would not be able to mix, even if the bottle leaked!
We propose using Heat Shrink packaging, which would create a strong, secure film wrap around each of the bottles of chemicals.
Polythene Shrink Film provides superior puncture resistance and moisture protection, so even if a bottle were to leak, the chemicals would stay within the film and not damage any of the other products around it.
Shrink wrap must be used in conjunction with a heat shrink gun. Our ProShrink Heat Shrink Gun is our best value gun option, and to ensure the safety of you and your staff, safety goggles and gloves are included with the tool.
To package the bottles, simply place the film around the bottle, cut to size and use the heat shrink gun to seal the polythene.
We hope this helps,
The Packaging Doctor
Note: All the packaging problems our doctor receives are real queries from customers or non-customers.
If you have a packaging problem that needs diagnosing get in touch:
Twitter @kitepackaging or email packagingdoctor@kitepackaging.co.uk