How to package coffee beans – The Packaging Doctor
Packaging is primarily used to protect goods, but it is often as important to use packaging for presentation purposes and to support a business' brand. This week, a customer needs a packaging solution for both protection and presentation purposes for the coffee beans that he sells…
Dear Doctor,

Our company has developed new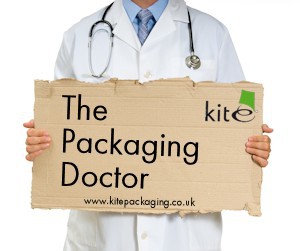 packaging for our bespoke coffee beans, which has been designed so that the boxes can be posted to customers as they fit the Royal Mail large letter dimensions.
Although the card boxes are food safe, the beans cannot sit loosely inside them. We would like to seal the beans in a bag (ideally 150mm x 230mm) and place it inside the card box.
We then require outer packaging to protect the boxes of coffee as they are mailed out to customers. We would like it if the customer could see the product as it is delivered to them as we have worked hard to develop eye-catching branding and it would be a shame if it was hidden by opaque packaging.
I look forward to hearing what solutions you propose!
Many thanks,
Richard
Hi Richard,
As coffee lovers here in the surgery, we know it is important to ensure that your customers receive their bespoke coffee beans in excellent condition, so here are our solutions!
To package the coffee beans, we propose using light duty polythene bags (178mm x 229mm). These bags are ideal for packing food products such as coffee beans as they are manufactured from safe, non-toxic polythene.  The high clarity plastic protects products from dirt and moisture, and can be easily sealed using either a manual hand-held sealer or industrial sealers for a secure, professional finish.
Once the bags of beans are packed into the card boxes, the product can then be placed in vacuum pouches (180mm x 300mm). These clear bags can protect both the product and display the newly branded packaging to the customer as they receive their order in the post.
To remove the excess air and seal the plastic vacuum pouches, you will require a vacuum chamber. Kite provides a range of desktop and free standing machines to choose from, to ensure you can purchase one to meet your volume requirements.
Our Packaging Experts will send you samples of the bags so that you can test them to ensure they are suitable for your coffee beans.
We hope you will be very satisfied with these solutions and look forward to your order!
Best wishes,
The Packaging Doctor
Note: All the packaging problems our doctor receives are real queries from customers or non-customers.
If you have a packaging problem that needs diagnosing get in touch:
Twitter @kitepackaging or email packagingdoctor@kitepackaging.co.uk