How To Package Craft Items For Presentation – The Packaging Doctor
The Surgery Is Now Open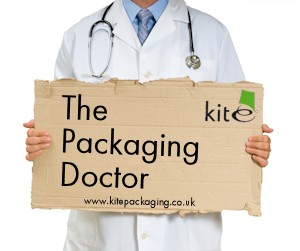 Dear The Packaging Doctor,
I would like to sell my iron on letters and shapes to local craft shops but need to package it. I'm thinking of some simple card packaging that can be stapled around a small sealed plastic bag. It also could do with being able to hang on a display stand or another simple way to package where you can see the product. I have not the faintest idea where to start or where to go for printing. Can you help?
Thanks In Advance, James
Hi There James,
Small point of sale products, especially craft items like the ones you suggest are best packaged in a plastic blister pack. These offer excellent clarity, a secure space to store your product so they can be seen by the customer and a euro hanging slot which will fit a number of display items. Inside the blister pack you can slot in a small piece of card with your company logo and description, these can easily be produced using a graphic design package or using a simple template on a software package like 'Microsoft Publisher'. If you then take this to a local print specialist they will be able to re-size and produce a certain volume for you.
Using a blister pack method ensures your product stays secure and is shipped without causing any damage, the backing card will also be clearly displayed without any distortion to the design. Alternatively you can use polythene bags, light duty open ended bags should be more than efficient for your product and can be secured using a heat sealer or staples.
Best Wishes, The Packaging Doctor
Note: All the packaging problems our doctor receives are real queries from customers or non-customers.
If you have a packaging problem that needs diagnosing
get in touch on Twitter @kitepackaging
or email packagingdoctor@kitepackaging.co.uk