How To Package Customised Chocolates – The Packaging Doctor
Confectionery; sweets, chocolates, cakes, biscuits - the list goes on and on. Let's face it, we are a nation that love a sweet treat!
First impressions are always important, and in the world of confectionery, it's a competitive field. For customers seeking their next sugar fix, the packaging of the treat can easily influence the purchasing decision.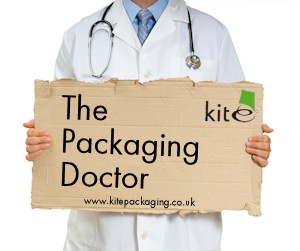 Businesses need to ensure their packaging is eye-catching yet protective, and for e-commerce businesses this is even more important. After all, if your product arrives damaged you are putting your reputation and profits at risk.
Today in the surgery we see a chocolatier expanding as an online business. Read below how I helped provide an effective packaging solution that sorted her out a treat!
Hi Doctor,
I wonder if you can help me please?
From a young age I have always been a 'foodie'. I particularly enjoy all things sweet, and have a passion for chocolate making.
It originally started out as a hobby of mine; selling my produce at local craft fairs and charity events. However, the demand quickly increased, and as a result I now make and sell customised chocolates full time.
I am looking to expand my business further and start selling my customised chocolates online.
My issue is that I have no idea what packaging to use. Please can you help?
Thanks,
Ellie

Hi Ellie,
Congratulations on the new business venture! For the dispatch of your chocolates, protection and sophistication are key to today's diagnosis.
White postal boxes are designed for customers who send customised gifts and luxury goods in the post. First impressions of your chocolates are important, and you need to ensure that you strike the balance between presentation and protection.
Our white postal box range is available in a range of different sizes, and all provide a secure and reliable delivery choice. Complete with a glossy white coating, a sophisticated and presentable look is instantly created.
To maximise protection, cover the box with some of our large bubble wrap. The large bubbles provide external cushioning and can be used inside the box to fill any excess space around the chocolates. Our bubble wrap is a flexible product, allowing you to cut to size on demand, and keep safe in storage ready for your next batch of orders.
Next, to add a finishing touch to the package, line the box with tissue paper. With a range of brightly coloured, metallic and natural colours to choose from, you can instantly 'lift' the appearance of your chocolates, and match colours depending on the customer's celebration.
Finally, complete the package with a fragile label. This will make clear to the handler that your chocolates are to be treated with care, avoiding damage during transit.
Hope this helps!
Best wishes,
The Packaging Doctor
Note: All the packaging problems our doctor receives are real queries from customers or non-customers.
If you have a packaging problem that needs diagnosing get in touch:
Twitter @kitepackaging or email packagingdoctor@kitepackaging.co.uk