How To Package Desk Stationery – The Packaging Doctor
These days' products come in all sorts of weird and wonderful shapes and sizes, and as a consequence, some are trickier than others to package.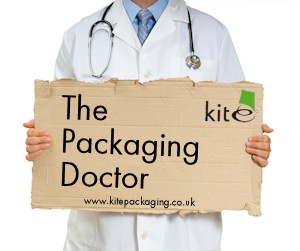 Sharp edges and fragile materials are just a couple of the common obstacles faced by suppliers in ensuring products are protected and look great on arrival. Luckily, the packaging materials market is diverse, and there are always suitable packaging solutions available, to help overcome these tricky situations.
Today in the surgery we see a stationery supplier, looking for a method to help with their new business venture. Read below how I helped prescribe my latest dose of packaging medicine…

Hi Doctor,
I work for an online company which sells wooden desk tidies. We have recently decided to start including stationery inside, anything from paper clips through to compasses.
As this is a new venture for us, we have no idea how to pack it! Our concern is that the desk tidies don't have lids, so we don't want the stationery to get damaged or the package to look unprofessional on arrival for our customers.
What would you suggest we use?
Thanks,
Julie
Hi Julie,
Thanks for your question in the surgery today. The solution to this problem is in fact very straight-forward.
Firstly, I would diagnose a dose of Bubble Wrap. Bubble wrap is a great packing solution commonly used to help protect products from damage and movement during transit. It is a flexible product that can be cut to size on demand and moulded into shape to match any contour, perfect for your desk tidies!
Bubble wrap is so easy to use. Simply pack your desk tidies full of stationary, cut a sheet of bubble wrap off of the roll, wrap around the pot and seal with some tape.
Now your desk tidies are protected, let's consider the presentation of the package. White postal boxes are a popular choice for e-commerce businesses and the gift sector. Made from single layer of corrugated board and finished with a glossy white coating, these boxes offer protection whilst instantly adding a professional feel to the package.
So there you have it; your desk tidies and stationery are protected and will look great on arrival for your customers.
Hope this helps!
Best wishes,
The Packaging Doctor
Note: All the packaging problems our doctor receives are real queries from customers or non-customers.
If you have a packaging problem that needs diagnosing get in touch on Twitter @kitepackaging or email packagingdoctor@kitepackaging.co.uk