How to package door seals – The Packaging Doctor
The Packaging Doctor is back!
If you or someone you know has a packaging related problem and needs expert help, our Packaging Doctor and our team of experts are on hand to help! Email your query to packagingdoctor@kitepackaging.co.uk or tweet @kitepackaging and our experts could be solving your packaging problem!
As the Packaging Doctor returns to the clinic after the festive period, the first customer of the year needs to find a solution to package the door seals his business sells…
Dear Doctor,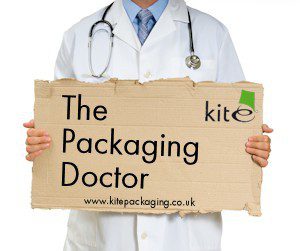 My business sells plastic door seals, some of which can measure up to 2m wide, and I am looking for a packaging solution to protectively pack and send my products out to customers.
Our typical product measures 2120mm x 175mm x 145mm, so we are looking for a box of these dimensions that we could use to pack the seals.
Is this something you can provide?
Many thanks,
Customer
Dear Customer,
Thank you for your enquiry, the first of 2017!
To produce a box to the required dimensions, we could create a custom box order, which would produce boxes to the exact dimensions you require for your door seals. To make a custom box order cost effective, the volume you would need to purchase could be relatively high compared to your current usage. As they say, when one door closes, another opens, and we have an alternative solution you may be interested in!
We propose using our Nomafoam O Profile edge protection, which provides 360 degree protection for your plastic seals. Manufactured from a low-density polyethylene, the foam has a deep slit in the top so that it can be easily clipped around your products to create a 'cocoon' shape around your goods. This would provide an all-round protective solution for your door seals, particularly as they are long, delicate products.
To complete the package, we would suggest then wrapping the seal within the Nomafoam casing in kraft paper, which is a high quality paper wrapping material. Delivering excellent strength, durability and tear resistance, this material makes a reliable outer wrapper for your door seals so that the package will arrive to customers intact and well presented.
Simply attach a document wallet to the parcel which contains the invoice or delivery note for customers to receive, and you will have a complete parcel that can be posted!
Though this packaging solution is different to the one you were initially searching for, we hope you can see the benefits of investing in an alternative! Please do not hesitate to discuss this option with our Packaging Experts and we hope to work with you very soon!
Best wishes,
The Packaging Doctor
Note: All the packaging problems our doctor receives are real queries from customers or non-customers. If you have a packaging problem that needs diagnosing get in touch: Twitter @kitepackaging or email packagingdoctor@kitepackaging.co.uk