How to package electrical units – The Packaging Doctor
Here at Kite, we aim to provide solutions for all types of businesses and products, whether they are small gifts or larger, industrial goods. This week, The Packaging Doctor helps a customer to find a solution to protect the electrical units they install into buildings…
Dear Doctor,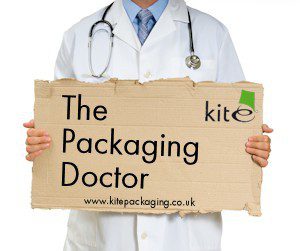 I am looking for a solution to protect electrical units that my business installs into buildings.
The issue is that these units are often installed when the building is still under construction, where the building is not yet watertight. I therefore need a solution to protect the electrical units from the elements, but also the dust from the construction work.
 What would you suggest?
Regards,
Carol
Hi Carol,
Protecting products from the elements is more important than ever now that the wintery weather has arrived – and we have a great solution for you!
We propose using Polythene Heat Shrink Film, which you could wrap your electrical units in and then apply heat to create a sealed wrap. Also known as PE Shrink Film, this shrink wrap provides superior moisture and dust protection and is puncture resistant, which would create an ideal protective wrap around your electrical units. We provide a range of widths and thicknesses of film, though for your units we suggest using heavy duty shrink film which has additional strength and can be applied to obscure shaped products, making it flexible for your operation.
To seal the units within the shrink film, you will need a heat source. We would suggest using a Pro Shrink Pallet Heat Shrink Gun, which is sold as a kit that provides all the tools and protective accessories you need to safely and efficiently apply heat to the shrink film and create a sealed pack around your electrical units. For additional efficiency and to make the shrink film packing operation more flexible, you may find it useful to use a Mobile Roll Dispenser, where you can store the polythene shrink film and move it to your ideal location when necessary, reducing the risk of damage to the electrical products.
We hope that you will consider using this solution to protect your products and hope to work with you soon!
Best wishes,
The Packaging Doctor
Note: All the packaging problems our doctor receives are real queries from customers or non-customers. If you have a packaging problem that needs diagnosing get in touch:
Twitter @kitepackaging or email packagingdoctor@kitepackaging.co.uk