How to package fairy lights – The Packaging Doctor
Even though it is only the beginning of October, the shops are already filling their shelves with Christmas products, including gifts and decorations.
Our customer this week in the surgery is looking for a solution to package the fairy lights and twig lights she sells to ensure her customers receive the perfect Christmas decorations…
Dear Doctor,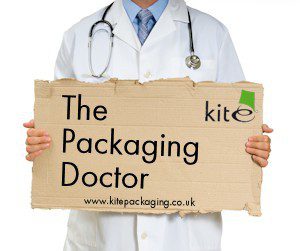 My business sells fairy lights and twig lights, and as you can imagine, this is a very busy time for us!
I am looking for two solutions to suit each of the products. The dimensions of the fairy lights are 160 x 70 x 70mm and the twig lights are 420 x 60 x 60mm.
We are only looking to purchase a relatively small quantity of packaging materials but would like an ideal solution that protects the products and presents them well to customers.
What kind of packaging products do you think would be best to use?
Many thanks,
Sarah
Hi Sarah,
As we are now trading in peak season, we understand your need to be prepared and have all of the packaging supplies you need to keep up with customer demand!
Though Custom Boxes are a useful solution to get the precise dimensions required to package products, they are most cost effective when purchased in large volumes.
For your requirements, we suggest using our White Postal Boxes (160 x 150 x 75mm) to package the fairy lights. The boxes are made from strong, corrugated cardboard which will ensure the contents of the parcel remains in perfect condition and the white, high quality finish will present the product professionally to your customers.
To protect the delicate lights within the postal box, we propose using our Speedman Box. This paper void fill system is ideal for smaller volume users, as it is very easy to use and store. Simply pull out the required amount of paper, tear it off and you will have good protective packing paper to pack around your fairy lights.
For the twig lights, consider using Postal Tubes (483 x 64mm), which are made with a strong Kraft paper outer, which provides a professional finish and is tear resistant. Supplied with end caps for a secure seal, these postal tubes would make an effective packaging solution for this type of product.
One of our Packaging Experts has sent out samples to you so that you can test pack your products, and will be in contact shortly to discuss these options with you. We hope that these solutions meet your expectations and we hope you have a very successful peak season!
Best wishes,
The Packaging Doctor
Note: All the packaging problems our doctor receives are real queries from customers or non-customers.
If you have a packaging problem that needs diagnosing get in touch:
Twitter @kitepackaging or email packagingdoctor@kitepackaging.co.uk