How to package flower pots – The Packaging Doctor
Using protective packaging to wrap delicate products is often essential for protecting goods during handling and transit, but it is also important to consider filling any voids to ensure products do not damage each other. This week, our Packaging Doctor helps a customer to resolve this issue that she is currently experiencing…
Dear Doctor,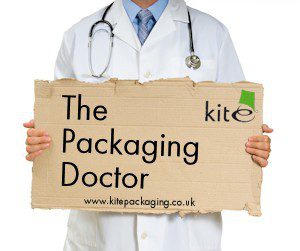 I currently use bubble wrap to package the plant pots I sell before placing them into boxes to send out. However the pots currently move within the box which increases the risk of them getting damaged.
I am interested in looking at other materials, such as the Jiffy Foam Roll, or other cushioning protection as an alternative to what I currently use. Could you provide some advice on these types of products?
I look forward to hearing from you soon,
Karen
Hi Karen,
Here at Kite we stock a range of protective materials for cushioning products and void fill, suitable for a wide range of products!
Jiffy foam roll is a great solution for protecting delicate products such as glass or polished surfaces, as it is non-abrasive and leaves no residue. Manufactured from "closed cell" polythene to protect products from damage, it is a strong but lightweight material which helps to keep shipping costs down.
However, to fill the voids within the boxes, we think there may be a more suitable alternative. We would like to introduce you our air cushion packing system, the Mini Air. The machine is easy to set up and use, is compact and will allow you to produce air cushions on demand, which you can use to wrap around your plant pots and use to fill any voids inside the boxes. The machine is capable of producing eight different types of cushion, which makes it a great value investment for your business, and each type of cushion provides protection to products against damage in transit and handling.
Our Packaging Experts have sent you additional information about the Mini Air and the range of cushions it can produce so that you can consider the system. We hope you will be able to see the benefits and hope that we will be able to provide you with your Mini Air system!
Best wishes,
The Packaging Doctor
Note: All the packaging problems our doctor receives are real queries from customers or non-customers. If you have a packaging problem that needs diagnosing get in touch: Twitter @kitepackaging or email packagingdoctor@kitepackaging.co.uk