How To Package High Quality Pictures – The Packaging Doctor
We are well and truly into the busiest period of the year, when businesses rush to find ways to better present their goods to ship as well as maintaining maximum protection.  For businesses that provide that hand-crafted personalised touch, securing delicate goods from damage is crucial. It ensures that customers will receive goods in exactly the quality in which it was sent.
People are increasingly becoming more creative with their present buying and what better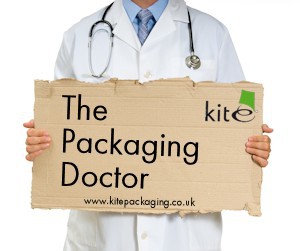 way to show someone you care than with their very own hand-made unique message.
In The Surgery today we have a lady who has taken some simple scrabble tiles and given them a twist.
Dear Doctor,
I hope you can help. I am looking for a way to better package my hand-crafted Scrabble pictures. These pictures have a high quality gloss finish and it is crucial that they do not get damaged during transit.
It takes a lot of time to perfect one of these pictures and I am worried that bumps and knocks during the shipping process will compromise the quality. I am unsure of the best packaging method to use, what can you suggest?
Thanks,
Simone
Hi Simone,
Thanks for your enquiry. What a great gift idea for any occasion, especially with that unique personalised touch. We understand that sending out timely hand-crafted goods can make you more protective and worried about damage during transit.  A lot of customers come to us for presentable solutions as well as the aspect of maintaining the quality of their goods.
The best solution for you would be our Picture Frame Boxes along with Foam Rolls to both protect the entire picture frame as well as the high quality gloss finish glass.  Foam Rolls are ideal for businesses who deliver goods with sensitive or delicate surfaces by preventing scratches occurring during transit. Once the frames are securely wrapped, they can then be placed into Picture Frame Boxes. The boxes are made from double wall cardboard, which provides extra strong protection and with the telescopic nature, it means that the height is also adjustable. Designed to fit snugly around goods, they simply slide to any height to prevent damage sustained through movement and vibration.
We hope this helps!
Note: All the packaging problems our doctor receives are real queries from customers or non-customers.
If you have a packaging problem that needs diagnosing get in touch on Twitter@kitepackaging or email packagingdoctor@kitepackaging.co.uk