How To Package Ice Cream Cones and Tall Cakes – The Packaging Doctor
The Surgery Is Now Open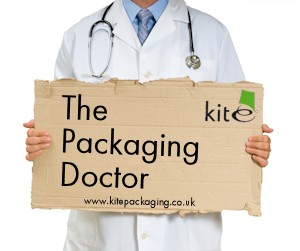 Hello Doctor,
I run a cake business, specialising in ice cream cone cakes - if you don't know what these are it is basically where you bake the cake inside an ice cream cone and decorate them with icing to look like traditional Mr. Whippy! Obviously because they are more of a 'tower' shaped cake they are proving rather tricky to package - do you have any suggestions?
Thanks in advance, Shirley
Hi Shirley,
I've just Googled your cakes and my stomach started to rumble - they look simply delicious! However I can see your point about the packaging. Have you ever considered bottle packaging? Obviously the cakes aren't as tall as wine bottles but they do have some stature. We sell bottle boxes which can hold 6 bottles, if they are too tall I would recommend cutting the dividers in half and inserting a piece of cardboard in between.
The great thing about this is that the dividers are incredibly sturdy and therefore will keep your cakes from falling over or knocking each other, ruining the decoration and overall effect. The strong material will also withstand long journeys, handy if you deliver to many different locations.
Kind Regards, The Packaging Doctor

Note: All the packaging problems our doctor receives are real queries from customers or non-customers.
If you have a packaging problem that needs diagnosing
get in touch on Twitter @kitepackaging
or email packagingdoctor@kitepackaging.co.uk