How To Package iPads And Tablets – The Packaging Doctor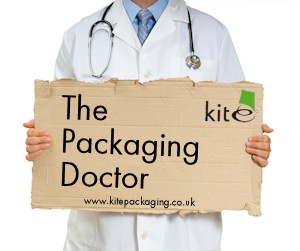 Welcome back to the packaging surgery, where we're looking at a popular product you can all relate to. iPads and tablets have become increasingly popular over the past couple of years, with millions of these innovative products being sold globally and sales continuing to grow. We are all aware of how much damage these clever bits of technology do to our back pockets, however here at Kite we are most concerned with ensuring there is no damage caused during transit from the retailer to the consumer!
Today's patient regularly transports expensive electronics as part of their online business. You can read below how I helped provide him with a simple long term solution for his company, and remember if you have any questions yourself regarding your packaging don't hesitate to get in touch.
Dear Doctor,
I run an online shop selling a range of second hand computer, gaming and phone electronics to technology lovers all over the country. Over the past 6 months I have received a high increase in demand for iPads and tablets.
The problem that I face is that the current packaging method that we use causes a substantial amount of damage to the tablets during transit. Combined with reports of damage I also fear that as the original packaging of the tablets are not included, our customers are disappointed with first impressions of their order.
I am hoping that you can suggest a solution for me that will provide a sleek packaging method that is both professional looking and practical. Please can you help?
Thanks,
Tom
Hi Tom,
Thanks for your question.  This is a recurring issue asked by many of my patients, so thank you for raising this in the surgery today. Luckily I have had a lot of experience with packaging consumer electronics, as this has been a rapidly expanding market in recent years.
I would recommend our Air Shock pouches; these provide a great air cushioned protection alternative to bubble wrap and other in box solutions and because of the high quality finish give a perception of high value – even though they are incredibly low cost wholesale.
By simply inserting the tablet into the opening of a pouch and inflating on demand, a cushion of air around the whole device is created, protecting the tablet against damage during transit. The pouches are available in 5 multi-purpose sizes and pack number 5 is especially designed for tablets, perfect for your business and this particular issue.
Benefits of the Air Shock include that it is lightweight, space saving, quick and easy to handle and complete with a custom sized outer cardboard box, giving the product the professional finish.
The Air Shock is a great investment for any company and is proven to considerably reduce damages; it will also create an effective, reliable long term packaging solution for distributing electronic goods quickly.
Hope this helps,
Best wishes
The Packaging Doctor