How to package jars of sauce – The Packaging Doctor
As The Packaging Doctor answers our 200th customer query, we would like to thank all of our customers who have sent in their queries and received expert packaging advice. If you have a packaging-related problem that you would like some advice for, please email The Packaging Doctor and your query will be answered by our expert!
This week, The Packaging Doctor helps a customer to pack jars of sauce so that they are ready for sale…
Dear Doctor,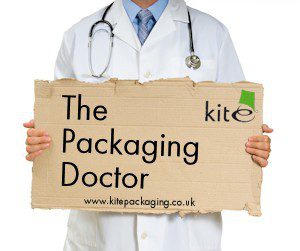 I am planning to sell jars of sauce in packs of 6, and I am looking for a way that presents the jars for point of sale, and a material that I can attach my labels to before sending out to customers.
What would you suggest I use?
Best wishes,
Florence
Hi Florence,
Many of our customers need a presentable way to package their goods, and we have some great packaging materials that can be used to do this!
For your sauces, we suggest firstly placing six jars onto Double wall cardboard sheets which will act as a base. These corrugated cardboard sheets are strong and available in a range of widths and lengths, so that you can have the ideal size sheet for your jars.
Once the jars are in place on the double wall cardboard sheet, we then propose using Polyolefin shrink film with an integrated desktop shrink system, to seal the jars into one pack. Polyolefin shrink film offers high clarity, making it ideal for point of sale packaging as customer can see the products within the shrink film clearly. The film contains no strong chemicals and is food safe, which is important for your products.
To create the sealed pack, you will need a heat source and we suggest using an Integrated desktop shrink system. This system has an integrated work table and gun holder to ensure all of the equipment and tools you need are kept together. It has various heat settings can be easily controlled to apply the correct heat required. Able to pack up to 120 items per hour, these systems help to create an efficient packing operation.
We hope you will see the benefits of these solutions and we look forward to working with you soon!
Best wishes,
The Packaging Doctor
Note: All the packaging problems our doctor receives are real queries from customers or non-customers. If you have a packaging problem that needs diagnosing get in touch:
Twitter @kitepackaging or email packagingdoctor@kitepackaging.co.uk