How To Package Jewellery – The Packaging Doctor
I love something handmade, don't you? There is just something special about receiving a product that has been thought about and taken time over, and crafting has become increasingly popular throughout home décor, clothing and food in recent years.  As well as a fantastic hobby that suits people of all ages and stages, thanks to the internet we now have a great choice of platforms for craftsmen and women to showcase their pieces and sell them to the less creative types (myself included).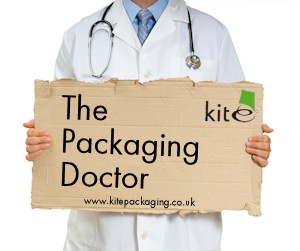 It is important to understand that packaging is a vital part of any business, but particularly a retail venture as so much relies on a customer's experience. importance that packaging plays in crafting, as retail packaging is all about the customers experience when they receive the product and their reaction to opening it. If we get it wrong, the seller is at risk of ruining their reputation.
In the surgery today we see a talented vintage jewellery crafter who has turned her hobby into a potentially viable business model. Take a look below and find out how I helped her and if you are a crafter too perhaps this may help as we approach the busy festive period.
Hello Doctor,
I have always been fascinated with jewellery and fashion from a very young age, and have early memories of rummaging through my Great Auntie's wardrobes and dressing up in her glamorous pearl necklaces, piling my fingers full of rings parading around the house in her fur coats.
This passion has stayed with me throughout adulthood and I now specialise in making bespoke pieces of jewellery using original vintage pieces. My range includes necklaces, bracelets and earrings and varies in price dependent upon the piece.
Having sold my jewellery through craft fairs and local shops for the past 4 years I am now going to be broadening my horizons and will be selling my pieces online through my own Etsy shop.
I am looking for some advice for a simple, yet professional packaging solution that also protects my pieces from damage through transit as some items are extremely fragile.
What would you suggest?
Thanks,
Victoria
Hi Victoria,
Thanks for your question. Crafting, what a brilliant topic for today's surgery. I remember spending many of my childhood Sunday mornings with my Grandma crafting, whether it was making fresh Victoria sponges, jams or cross stitching we were always making weird and wonderful creations together and am so pleased to see it becoming popular again.
For your more expensive items I would recommend our White Cardboard Postal Boxes, these offer great protection for your jewellery and encase the product with a strong shield. The boxes are available in a range of different sizes and complete with the white finish help create a professional and sophisticated look for your business.
To complete the package I would then suggest some tissue paper to cushion the jewellery, and this helps protect any surfaces that are prone to scratching or tarnishing. We have a range of brightly coloured, metallic or natural colours available to help compliment the packed piece.
Alternatively for your cheaper priced items or for a speedy packaging process I would suggest our bubble bags which are perfect for protecting small products and offer great tear resistance. I would then pop these into one of our Coloured Mailing Bags which are available in 4 attractive colours, tear resistant and are again available in a range of different sizes.
Both of the suggested solutions above are PiP (Royal Mail Pricing in proportion) sized, which means they can be sent through Royal Mail. This will help keep postage costs to a minimum and the delivery process simple.
From the above you now have a simple, yet effective packaging solution which will help to build brand image and keep costs to a minimum, hope this helps.
Good luck with the new venture!
Best wishes,
The Packaging Doctor
Note: All the packaging problems our doctor receives are real queries from customers or non-customers.
If you have a packaging problem that needs diagnosing get in touch on Twitter @kitepackaging or email packagingdoctor@kitepackaging.co.uk