How to package kitchen work surfaces – The Packaging Doctor
What are the best ways to protect the edges, corners and surfaces of high finish products such as kitchen work surfaces? No need to wonder any more, The Packaging Doctor has the answers!
Dear Doctor,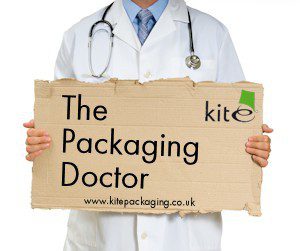 My business sells kitchen surfaces which are available in a variety of materials, including laminate and wood.
Often the edges and the surface of these products are damaged during transit because the products are large and heavy, which makes it difficult to handle them when transporting, delivering and installing into a customers' kitchen.  To provide our customers with an exceptional product finish, we are keen to find packaging that would allow us to ensure our products arrive to the customer with the same quality finish they expect.
What packaging would you suggest we use to ensure we can deliver high levels of customer service and still ensure the installation of the kitchen work surfaces is still efficient?
Kind regards,
Ben
Hi Ben,
Thank you for writing in. No matter what product you need to pack and protect, we can provide a solution for you!
To protect the edges and corners of your kitchen surfaces, we would definitely propose using Nomafoam edge protection. As one of the leading brands in foam protection packaging, Nomafoam is manufactured using low-density polyethylene which is extremely flexible, yet maintains a tight grip around edges of furniture, and other items such as frames.
The U-tulip shape foam profiles are developed to be shock absorbent, to protect against knocks, scrapes and scratches, which would give you peace of mind when handling the work surfaces during transportation, delivery and installation. The material itself does not cause scratches or damages to the products it is placed onto, so the finish of your product remains intact.
To secure these edge protectors around the work surfaces, we suggest using clear pallet wrap. Depending on the size of your products and the requirements to use the Nomafoam edge protection, you may find it easy to use mini stretch wrap and hand dispenser, or alternatively, use one of our flush core pallet wraps.
To provide additional protection for the surfaces of your worktops, you could choose to use Kite Tuff-Wrap, which is a layered cushioned protective blanket which is ideal to protect furniture with delicate surfaces during transport and handling. Supplied in a roll, it can be cut to size to suit your products, giving you the flexibility to choose to use as much as you feel you need for each product.
We hope you will find these materials suitable for your products, and please contact our expert team if you need any further assistance!
Best wishes,
The Packaging Doctor
Note: All the packaging problems our doctor receives are real queries from customers or non-customers. If you have a packaging problem that needs diagnosing get in touch: Twitter @kitepackaging or email packagingdoctor@kitepackaging.co.uk