How To Package Lamps – The Packaging Doctor
The Surgery Is Now Open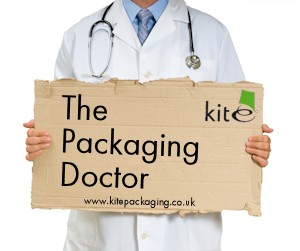 Hello Doctor,
I have just started a lighting business, selling a range of lamps. They are quite delicate however as I'm just starting out I need to package them as cheaply as possible. Can you make any suggestions that aren't too technical?
Many Thanks, Kelvin
Hi Kelvin,
The most fragile part of a lamp is the head and base as these are the most awkwardly shaped aspects. To stabilise these and ensure they won't get damaged I would simply wrap with pallet wrap, this will form a thick layer of protection and will make sure it is secure. You will then need to place inside a box, I would choose double wall for further impact protection and either fill the box with loose fill or wrap the lamp a second time with bubble wrap or air cushions.
Thanks, The Packaging Doctor

Note: All the packaging problems our doctor receives are real queries from customers or non-customers.
If you have a packaging problem that needs diagnosing
get in touch on Twitter @kitepackaging
or email packagingdoctor@kitepackaging.co.uk