How To Package Lampshades – The Packaging Doctor
Packaging's offering is multi-functional. We all know that it is commonly used to help eliminate damages caused during transit, and protect goods from dust and dirt, but are you aware of how beneficial packaging materials can be to your everyday working warehouse operation?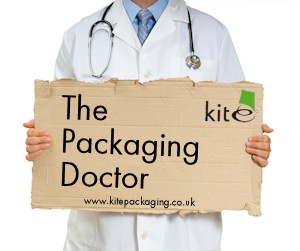 Take a look at our new coloured tape range for example. This product is most commonly used within warehouse operations to help distinguish between different product types, making it easier to load. But its functionalities don't stop there. Why not use our tape to help keep work spaces tidy, improve workplace safety, and use on boxes and parcels to promote your organisations brand? Genius!
Today in the surgery we meet a homeware distributor who is after a packaging solution to help with the storage of his lampshades. Read below to see how I switched on my thinking cap, and provided him with another dose of great advice...
Hi Doctor,
I run a family business in London, specialising in high-end electricals.
My business is growing rapidly, and after recently joining the e-commerce world, we are running out of space in our warehouse, quickly!
With a small team of warehouse operators on site, I am looking for a new storage solution for our lampshades. The range is already large, and comes in all sorts of sizes and colours, so I need to act quickly.
I am after a solution that protects the lamp shades, but is also see-through, so that my team can see them easily whilst picking.
What would you recommend?
Thanks,
Mark
Hi Mark,
Thanks for your question. I have a bright idea for you that will leave your lamp shades easily detectable and protected in your warehouse.
Take a look at our Lay Flat Tubing. This product is made from polythene, which is wound onto a roll for continuous use. The tubing is available in three different thicknesses; and for your lampshades, I would advise medium duty.
Medium duty is popular amongst my warehouse and fulfilment patients. This is because the bags are flexible, lightweight, and the perfect thickness for large, light products such as your lampshades.
With the aid of a Heat Sealer, you are able to make tailor made bags to suit your whole range. To use, simply roll the tubing flat onto a work surface, and insert your lampshade into the bag. Cut to the desired length, and insert the open end into the heat sealer to seal.
Your lampshades will be instantly protected from dirt and dust in the warehouse and kept in a great condition in storage, and in transit. The tubing is transparent, so your lampshades will be easily detectable in the warehouse.
The method I have diagnosed you with today is really easy to implement, and the purchase of a heat sealer will make a great investment for your business. Your warehouse will be organised in no time! You can use the layflat tubing and heat sealer to seal not only your lampshades, but your whole range of products, making it a long term, effective packaging solution for your business.
Hope this helps!
Best wishes,
The Packaging Doctor
Note: All the packaging problems our doctor receives are real queries from customers or non-customers.
If you have a packaging problem that needs diagnosing get in touch on Twitter @kitepackaging or email packagingdoctor@kitepackaging.co.uk