How To Package Large Bottles – The Packaging Doctor
The Surgery Is Now Open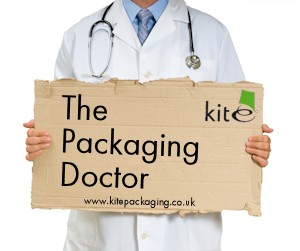 Dear The Packaging Doctor,
I work for a sport supplement company that supplies sport supplements, snacks and protein shakes to the fitness industry including gyms and body-builders. We need to send out large bottles of supplements to various customers but have very limited storage space, the boxes therefore need to fit a number of sizes. All the bottles are 400mm wide but range from 400 - 200mm in length. They are quite heavy so need something robust to be transported in. Can you help?
Thanks, Joshua
Hi Joshua,
Sports supplements seem to be becoming more and more popular, and I'm sure your business will really start to boom at Christmas and New Year. I completely understand your lack of space, particularly when the items you send out are bulky and heavy.
Because these are large items you will need to use double wall boxes to ensure that they survive transit, double wall boxes contain two layers of corrugated which help with transporting heavy loads as well as providing an extra layer of support to withstand any impact damage that is common when transporting bulky items. We stock a large range of double-wall boxes, but in order to consolidate your packaging I would concentrate on the multi-scored items. Multi-scored boxes are adjustable in height so that a number of different products can be packaged in a single box. All you need to do is cut down to the line on the corners of the box and fold over. I would recommend the 406 x 406 x 406mm box which is multi-scored to allow for heights of 229mm and 305mm.
Best Wishes, The Packaging Doctor
Note: All the packaging problems our doctor receives are real queries from customers or non-customers.
If you have a packaging problem that needs diagnosing
get in touch on Twitter @kitepackaging
or email packagingdoctor@kitepackaging.co.uk