How To Package Metal Plates For Digital Signs – The Packaging Doctor
We really have enjoyed some lovely weather over the past week and as usual, the surgery has been bustling, which we love, as nothing makes us happier here in the surgery than finding you, our customers the solutions you require.
We have all experienced a time when we have left something until last-minute and critically need to get it as soon as possible. However here at Kite we are always here to help and to support you in getting your products to you when required, part of this is our experienced team on hand to answer your calls throughout the day along with our next day delivery, getting those important products to you.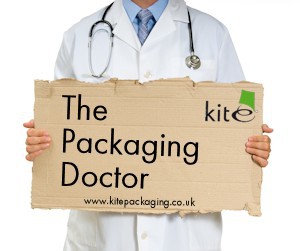 Today in the surgery we met a customer who was in a hurry. He had two days to find a solution and have the good delivered to him and in true Kite style, we supported him throughout the process, offering the perfect solution and getting it delivered to him on time. He needed to find solid packaging that was not too time-consuming to protect 600 metal plates he needed to pack.
Hi Doctor,
I'm sure you can help, I'm very pushed for time and need to find a solution to pack 600 metal plates and I need the packaging in two days.
The metal plates are 950mm long and 12cm wide, I need solid protective packaging. Lay-flat tubing and bubble wrap are too time-consuming and not a good form of protection for what I require.
I hope you can help.
Thank you
Andrew
Hi Andrew,
Thank you very much for your question in the surgery today. As always we have the perfect solution for you.
Bubble wrap is a great solution for a wide range of applications; however, we completely agree that there are other solutions that are less time-consuming, offering just as good protection to your product.
Lay flat tubing is great to tailor make bags to any size and to protect from dirt, dust and moisture however for your metal plates we believe that you need something sturdier.
Let me present to you my solution….Postal tubes.
Postal tubes are commonly thought of for the use of protecting artwork, prints, plans or posters, however with many packaging products, they have a wide range of uses that nor initially thought of.
Available in a wide range of sizes they are ideal for many products, for your specific request, I would recommend the extra-large postal tubes as these are ideal for the dimensions you have given.
Providing all round protection and an item that can be used time and time again, they will supply the protection you require for your metal plates.
I hope this helps.
Thank you,
The Packaging Doctor
Note: All the packaging problems our doctor receives are real queries from customers or non-customers.
If you have a packaging problem that needs diagnosing get in touch on Twitter@kitepackaging or email packagingdoctor@kitepackaging.co.uk