How to package metal products – The Packaging Doctor
Deciding which packaging materials to use can be difficult when there are so many options available! Fortunately, our Packaging Doctor and team of experts are always on hand to provide you with advice and will work with you to find the most effective packaging solution for your requirements.
Dear Doctor,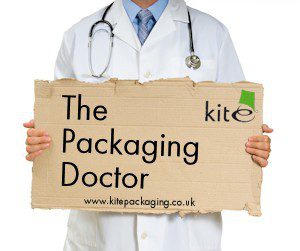 My business sells a range of metal coated products, including metal plates, gates and doors. To protect the items from scratches, we currently use foam, but I am looking for something that is tougher to protect the metal work.
I am thinking about using large bubble wrap, because I think that the large bubbles would provide better protection. Do you think it would be suitable? 
Many thanks,
Andy
Hi Andy,
Though large bubble wrap provides excellent protection for large products, we would suggest using materials that are non-abrasive, to ensure that your metal coated products do not get scratched during transit.
We propose using Kite Tuff-Wrap, a non-abrasive protector with a laminated protective layer, which provides advanced protection against knocks, scuffs and scrapes. Popular with the furniture and removals industries, it is supplied on a roll similar to bubble wrap, so you can cut the wrap to size and avoid excess waste. As a cost effective alternative to other branded protective materials, Tuff-Wrap can be used flexibly to suit the products you are wrapping.
One of our Packaging Experts has sent you a sample of Kite Tuff-Wrap so that you can test the material for your products, and we hope you will find it suitable. We look forward to hearing from you soon!
Best wishes,
The Packaging Doctor
Note: All the packaging problems our doctor receives are real queries from customers or non-customers. If you have a packaging problem that needs diagnosing get in touch:
Twitter @kitepackaging or email packagingdoctor@kitepackaging.co.uk