How To Package Oily Metal Components – The Packaging Doctor
The Surgery Is Now Open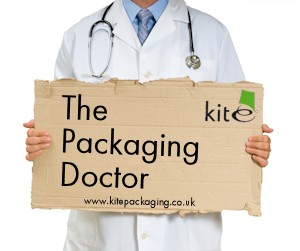 To The Packaging Doctor,
I run a fulfilment operation and recently we have secured a contract with a specialist engineering company to package and ship out metal parts. These metal parts are sometimes oily or have liquid still on/in them and the current packaging method we are using is resulting in a number of leaking packages.
This is a fairly new sector for the company so we are unsure how to go about solving the issue. Does Kite sell any leak-proof packaging solutions? The parts are fairly large.
Thanks, Robert
Hi Robert,
There are two different types of packaging methods we could use here – and largely this depends on how secure you require the packages to be. For a simple solution that prevents the leaking our waxed paper has been specifically designed for engineering parts. At 65 gsm it is ideal for heavy items, and has a moisture resistant barrier to prevent seeping and preventing the item from rusting. Once wrapped, the items can be placed in a box for shipping.
Alternatively, vermiculite is an excellent loose fill option for packaging materials that are prone to leaking or potentially hazardous. The product is made from naturally occurring minerals and is highly absorbent, unaffected by potentially hazardous liquids, of course it also offers brilliant protection from impact and shock damage, and is brilliant for oddly shaped items as it easily moves around the object. To create a secure package place the part in to a large heavy duty polythene bag and pour in the vermiculite – the polythene bag is suitable for heavy items and offers great tear resistance. To secure use a cable tie, our releasable ties are made from strong nylon plastic and can be released by the recipient using the finger catch.
Best Wishes, The Packaging Doctor

Note: All the packaging problems our doctor receives are real queries from customers or non-customers.
If you have a packaging problem that needs diagnosing
get in touch on Twitter @kitepackaging
or email packagingdoctor@kitepackaging.co.uk