How To Package Paste – The Packaging Doctor
Here at Kite we are truly back in the swing of things with January continuing to be an extremely busy period.
We come across many different packaging requests from businesses in all industries and love offering solutions that can massively change the way they do things for the better - there is no issue too big or too small for Kite when it comes to packaging.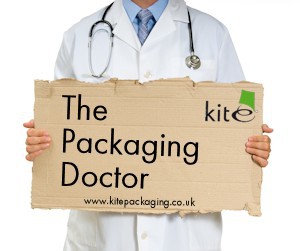 Today in the surgery we meet a customer who needs advice on packaging waste, as too
much paste is being wasted and the current process is time consuming.
Dear Doctor
I hope you can help.
I am looking for a suitable solution to package paste. The way I am currently doing it is leading to too much waste and is very time consuming. I want something that will hold the paste in place, is efficient and leads to as little paste waste as possible.
I am unsure what products of yours will be best to use, what can you suggest?
Thank you,
Steve
Hi Steve
Thank you for getting into contact with us.
I completely understand the importance of this packaging solution, you are not only wasting time with the current process, but more importantly you are wasting paste which will reduce business profits. Here at Kite, offering cost effective solutions and efficient solutions to customers is key to us.
Let me suggest to you our heavy duty polythene lay flat tubing.  This is the perfect choice when a higher puncture resistance is required and support is needed for heavy loads. The polythene tubing can be used to create custom sized poly bags, which will be ideal for your paste loads and will protect your waste from dust, dirt and moisture.
Hope that helps,
The Packaging Doctor
Note: All the packaging problems our doctor receives are real queries from customers or non-customers.
If you have a packaging problem that needs diagnosing get in touch on Twitter@kitepackaging or email packagingdoctor@kitepackaging.co.uk