How to package pet food – The Packaging Doctor
As man's best friend, many of us want the best for our pets! This week, a customer is looking to seal greater volumes of pet food pouches, and needs an effective solution to brand the packages they ship to customers...
Dear Doctor,
Our business sells pet food, and as we are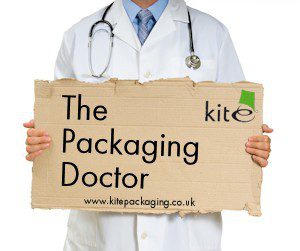 growing we need a packaging solution to seal the pouches of food, which contain some liquid. Once the pouches are filled, we then pack them into boxes, but are looking for a way to brand the products so that customers recognise our company.
What would you suggest we use that can help us to fulfil our growing customer orders and make our brand more visible?
Many thanks,
Sandra
Hi Sandra,
We love to find solutions for businesses as they grow, and we have some great solutions to present to you and your business!
Introducing our Continuous Heat Sealer range! Used in many fulfilment operations, they are quick and easy to use, and deliver strong seals to form pouches for products such as loose goods. The range can seal a variety of bags, including polyethylene, polypropylene, cellophane and paper, therefore flexible to meet your requirements.
The D555 continuous heat sealer can be used on a workbench or table, compact enough to fit easily within your busy operation. Bags can be sealed lying flat on the conveyor, with the conveyor easily adjustable in width. It is a great machine for sealing products at high volumes, which you will benefit from as you will be able to pack more pouches of pet food.
An alternative machine is the D552 continuous band sealer, that seals bags while they are standing up, which is ideal for sealing pouches with smaller items that will spill if laid flat or contain liquid, like your pet foods. The sealing head and conveyor can be adjusted easily to suit the sealing operation, making it a versatile solution for growing operations like your business.
Once the pouches are filled, we recommend packing them into either single wall or double wall cardboard boxes, depending on the weight of the pouches and the level of protection you require them to have during transit, and then sealing the box with custom logo tape. This is a cost effective way to brand the packaging of your products with a message or company logo. Printed on high quality white polypropylene or PVC tape, your brand will be visible to customers, courier handlers and the wider public, providing opportunity for brand recognition.
We hope you will be interested in these solutions, and our expert team are available to provide additional information and work with you to find the ideal solution for your operation. We wish your growing business every success and hope to become your first choice of packaging supplier!
Best wishes,
The Packaging Doctor
Note: All the packaging problems our doctor receives are real queries from customers or non-customers. If you have a packaging problem that needs diagnosing get in touch: Twitter @kitepackaging or email packagingdoctor@kitepackaging.co.uk