How to package port and cheese – The Packaging Doctor
Here at Kite, our aim is to provide the most suitable packaging solutions for our customers, in particular to ensure their products are well protected during transit. This week in the surgery, our customer needs a solution to protectively pack bottles of port and cheeses…
Dear Doctor,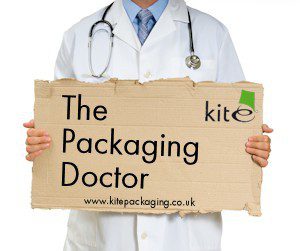 My business sells Portuguese port and cheese, both of which are delicate and expensive products.
I am looking for a suitable packaging solution to dispatch the goods out to customers.
The bottles of port are 750ml. The cheeses measure 14x9x9cm, but the weight can vary from 450g to 550g.
What could I use to pack these goods and ensure they remain in perfect condition?
Many thanks,
Marco
Hi Marco,
We understand that it is crucial to have the appropriate packaging to avoid damage to products during transit, especially for such delicate products as these.
To pack the bottles of port, we propose using Air Shock, available in 1, 2 and 3 bottle packs, they will be the ideal solution for you. Specifically designed to protect glass bottles, these air pouches provide excellent shock absorption, and are easily inflated on demand. For additional protection, they can be purchased with an outer box.
For the cheeses, we suggest using our White Postal Boxes (152 x 127 x 95mm).  These strong cardboard boxes are easy to assemble, and are ideal for presenting your products professionally to customers. You could consider placing a Handle with Care Label on the boxes to ensure the couriers take additional care when transporting and delivering your products.
Our Packaging Expert has sent samples for you to try, and will be in contact shortly to find out what you think of these solutions. We hope you find these suitable and look forward to speaking to you soon!
Best wishes,
Kite Packaging
Note: All the packaging problems our doctor receives are real queries from customers or non-customers.
If you have a packaging problem that needs diagnosing get in touch:
Twitter @kitepackaging or email packagingdoctor@kitepackaging.co.uk