How to package baby skincare gifts – The Packaging Doctor
Here at Kite we aim to help all of our customers whether they are a large business or just starting up. This week, our customer needs to find packaging solutions before the launch of her new product range…
Dear Doctor,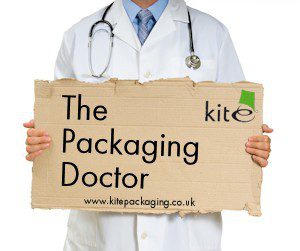 I am about to launch my own baby skincare range and need some packaging solutions suitable for each of the following products
Baby Gift Set – Box size 20 x 14 x 7cm
200ml bottles - 17 x 6cm
50ml spray – 11 x 3.5cm
Baby Hooded Towel – 18 x 13 x 4cm
If the launch goes successfully, I am also looking for packaging to distribute the products using a courier service, so would need something that provides protection but is also cost effective.  
Can you help?
Thanks,
Alba
Hi Alba,
We suggest using our White Postal Boxes for the Baby Gift Set (in size 240 x 240 x 80mm), the 200ml bottles and the hooded towel (in size 222 x 150 x 88mm). These boxes are perfect for presentation and ensure the products within are protected during transit. You could wrap the products in coloured tissue paper to produce a beautifully presented product for your customers to open.
For the 50ml spray, you could use our Arofol envelopes (Size 3, 15 x 21.5cm), which are lined with bubble wrap to protect items placed inside. They have a peel and seal strip for easy and secure closure and can be recycled after use.
To distribute the baby gift boxes by courier, we propose using our Grey Airshock Mailers. Incorporating Air Shock pouch protection, these mailers are easily inflated to create a robust air pouch that is lightweight and shock absorbent, ideal for protecting  products in the post. The grey mailing bag outer means that products cannot be seen within the pack and is secured with a peel and seal strip.
Our Packaging Experts have sent out samples for you to test, and will be in contact soon to discuss these options further.
Best wishes,
The Packaging Doctor
 Note: All the packaging problems our doctor receives are real queries from customers or non-customers.
If you have a packaging problem that needs diagnosing get in touch:
Twitter @kitepackaging or email packagingdoctor@kitepackaging.co.uk