How to package socks – The Packaging Doctor
Our customers sell and ship a variety of goods, so it is a good thing the Packaging Doctor can prescribe a remedy for any packaging problem!
This week, the Packaging Doctor helps an online sock shop to find a creative way to pack their orders…
Dear Doctor,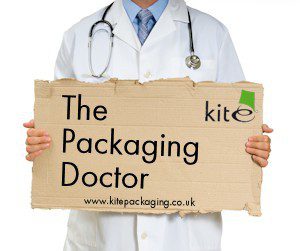 We run an online sock shop, selling all kinds of socks from luxury to novelty pairs!
We have been receiving orders from customers purchasing more than one pair of socks in one order, and we are looking for a creative way to pack and send our products to customers. We are thinking about something with dividers so that we can pack each pair individually but within one parcel.
Do you have any ideas?
Thanks,
Steve
Hi Steve,
Thank you for your enquiry!
We would suggest using our 200mm wide corrugated paper rolls, which you can cut into small cylindrical shapes and create a tube, which you can then pack individual pairs of socks into. This lightweight paper has raised corrugated flutes on one side to provide protective padding and cushion items from impact, and will create economical dividers that will keep shipping costs to a minimum.
You could seal the cylindrical tubes with our inkjet and laser labels with your logo printed onto them, so that each pair of socks is encased in packaging that promotes your brand. To complete the parcel, you could pack the pairs of socks wrapped in the corrugated paper into our white postal boxes. Available in a variety of sizes to suit the amount of pairs that the customer has ordered, these presentation boxes are ideal for sending goods out by courier or in the post as many of our sizes meet the Royal Mail Pricing in Proportion criteria, helping you to manage your postal costs.
The boxes are easy to assemble, and could be securely sealed using custom logo tape, another way to promote your brand using your packaging.
We hope you will consider these options for your operation and our experts look forward to hearing from you soon!
Best wishes,
Kite Packaging
Note: All the packaging problems our doctor receives are real queries from customers or non-customers. If you have a packaging problem that needs diagnosing get in touch: Twitter @kitepackaging or email packagingdoctor@kitepackaging.co.uk