How to package tablet computers – The Packaging Doctor
Choosing the most effective packaging is essential, but highly dependent on the type of goods a business or individual wants to send out in the post or courier network. This week, a new business who sells high value tablets needs to find an appropriate packaging solution…
Dear Doctor,
I have recently started up a business that sells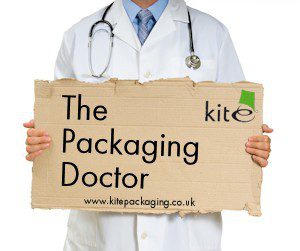 tablet computers, which are delicate, high value products.
We need to find a way to pack them so that they can be sent out in the post via a courier, and arrive to the customer in perfect condition. We would like a solution that is presentable, but one that ensures the product is protected during the delivery to the customer.
What would you recommend?
Thanks,
David
Hi David,
Using the right packaging to pack goods is essential to ensure that the finished goods are delivered to their end user in perfect condition, especially when posting high value goods!
Specially designed for items such as tablets and laptops, we suggest using Kite's Air Shock pack 6 (maximum usable dimensions – 160mm x 150mm x 50mm). These air cushioning products create a shock absorbent, burst resistant air pouch around products, which protect goods during transit. Simply place the tablet inside one of the pouches, and then inflate the pouch through the integrated valve and hand pump. Alternatively, you could pre-inflate the pouches and then put a tablet within each. These air pouches are lightweight so help keep shipping costs low but are strong and presentable, delivering a great packaging solution for your goods.
To provide additional protection, our Air Shock range is available with an outer box. We would recommend using these outer boxes as the Air Shock range is clear, which mean the products would be on show if no other form of packaging was used, which would be less secure when sending out in the post. The outer box can then be branded with custom logo tape, which as a new business you may find a cost effective way to market your brand and become recognised by customers.
As an alternative to bubble wrap, foam and other in-box solutions, we hope you will see the benefits of Air Shock for packing your tablets. Please contact our team of packaging experts if you have any questions or require further information!
Best wishes,
The Packaging Doctor
Note: All the packaging problems our doctor receives are real queries from customers or non-customers. If you have a packaging problem that needs diagnosing get in touch: Twitter @kitepackaging or email packagingdoctor@kitepackaging.co.uk