How To Package Wedding Favours – The Packaging Doctor
Wedding days are similar to a military operation. For many brides and grooms it is the single most important day of their lives. After months of careful planning and preparation, everyone involved has a responsibility to ensure the day runs like clockwork.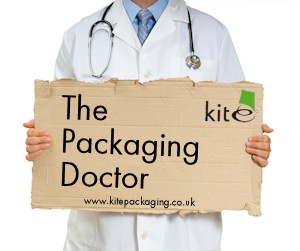 As a supplier, we need to ensure the service we provide is flawless; delivering the right product, at the right time, every time.
Today in the surgery we meet a wedding stationery supplier who is looking for a packaging solution to protect their new products.
Read my latest dose of advice below to see how I helped this patient out…

Hi Doctor,
I own an online wedding decorations company. We specialise in hand making favours, place cards, invitations and centrepieces in all sorts of colours and themes.
We have recently introduced a new line of personalised dried leaves that will be used as place cards. They are beautiful and help 'lift' the overall appearance of the table, but I am struggling to find a packaging solution for them.
The packaging needs to keep the leaves safe during transit to ensure they arrive in perfect condition. What would you recommend?
Thanks,
Angela,
Hi Angela,
Thanks for your question in the surgery today. Our VMS 43 Vacuum Chamber Machine is the perfect solution for you.
This machine is great at producing compact packs for small items, ideal for packing your dried leaves and stationery range.
A vacuum chamber is a great investment and has many benefits for your operation. Delivered as a desktop model to help save space, you can simply pop it on top of a workbench and operate on demand.
What's great about a vacuum chamber is that it's really easy to use, and does the job quickly. Simply place your leaves into a polythene vacuum bag, place inside the machine, and close the lid.
The machine works by removing all the excess air within the bag and seals the pouch with its built-in heat sealer. This helps protect your leaves from air and moisture ready for transit, and preserves the original condition of the items so that they don't rot. Your finished result is a professional looking, protected package.
Although the machine is an investment, it will provide a simple packaging solution for all your products, and is food safe if you decide to make edible favours. Our range of vacuum pouches are great value and there are 10 different sizes to choose from, providing flexibility for your entire range of products.
If you wanted to go the extra mile for your bride and groom, why not use the vacuum chamber to produce separate packs of leaves for the individual guest tables? This will help save lots of time setting up on the big day!
Good luck with the new range, I hope this helps!
Best wishes,
The Packaging Doctor
Note: All the packaging problems our doctor receives are real queries from customers or non-customers.
If you have a packaging problem that needs diagnosing get in touch on Twitter @kitepackaging or email packagingdoctor@kitepackaging.co.uk