How To Package Wedding Signs – The Packaging Doctor
As we pass through the final period of summer, it's been interesting for us here in 'The surgery' to see some of the seasonal packaging enquires we get.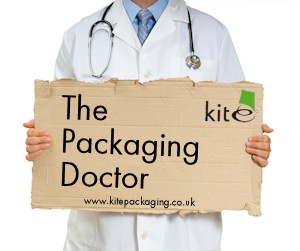 For all of us, the summer means spending time on some of life's more enjoyable activities. It could be family fun during the kid's school holidays, the all-important 2 week holiday abroad or even just a picnic in your local park. One other important event, popular at this time of year is getting married.
For anyone whose business is involved directly or indirectly in the wedding industry, the summer months are the busiest time of year.
For todays appointment with the Doctor we have a customer who's product is the perfect addition to 'The Big Day', but isn't necessarily the easiest to pack.

Hi Doctor,
I am setting up my own business selling bespoke wedding signs. The signs are about 4 foot long and 32 inches wide. They will be sent to my customer via courier. Do you have any packaging solutions you could recommend?
Thanks,
Andrew
Hi Andrew,
Thanks for your question.
Sounds like a very interesting and niche business idea you have. If 'Mrs. Packaging Doctor' had known about bespoke wedding signs on our big day, I'm sure we'd have wanted your product!.
The fact your product is bespoke and is being purchased by someone with a big emotional investment in their big day (as well as financial of course!) guaranteeing the right protection for your signs is critical not only to each of your customers, but to your own reputation as a business too.
Several things about the packaging are important in this specific case. As well as the right degree of protection, the packaging needs to be cost effective. You're a start-up company after all and costs are probably critical at this point more than any other time!. As a new business I would guess you are also working hard to establish your name and market what you have to offer.
Luckily I can answer all these points for you.
I would suggest wrapping your product in our corrugated paper first. It is versatile enough to be wrapped around irregular shaped objects, and your signs are large after all!. Critically, the 5mm raised fluting will offer padding and protection. For improved presentation, you can then wrap the outside in our 90gsm Pure Kraft paper. The Kraft paper rolls not only look great, but they are suitable for heavy duty use, as they offer ample strength and tear resistance.
For cost effective, high quality branding on your packed product, I would also recommend ordering custom printed logo tape. We can print a high quality white tape with your company logo and contact details. This is proven way of getting your company name out there to at a very low cost and custom printed tape also adds a greater perceived value to the outer packaging.
I hope this has answered your question, good luck with your new venture!
Best wishes,
The Packaging Doctor
Note: All the packaging problems our doctor receives are real queries from customers or non-customers.
If you have a packaging problem that needs diagnosing get in touch on Twitter @kitepackaging or email packagingdoctor@kitepackaging.co.uk