How To Post Giveaways With A Professional Feel – The Packaging Doctor
The Surgery Is Now Open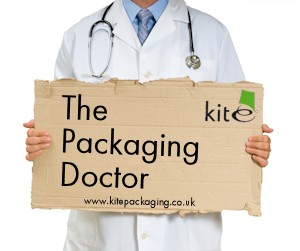 Dear The Packaging Doctor,
I work for a large organization on the marketing team and we have previously used Kite's gift bags for sending out promotional materials such as mugs, key rings, pens and stationery to clients and the press to raise brand awareness. I went on to re-order and you no longer stock them! Do you have any suggestions? Ideally we'd like it to match the company image, which is white and blue.
Thanks and Best, Caroline
Hi Caroline,
Apologies that we don't stock these any more, we've noticed with online businesses booming and many gift wrapping services available in shops that there isn't a high market demand for gift bags. However I understand your specific predicament, sending out promotional products needs to be done in an attractive way to grab attention, particularly from journalists who regularly receive promotional giveaways.
One of the best ways to package products like this is using a white postal box, as the professional finish adds a sense of premium branding to a send-out. For your products, because some of them are quite small, I would recommend small white postal boxes with tuck in flaps so that the box stays secure and items don't fall out. These boxes also comply with the Posting in Proportion regulations, set out by Royal Mail, so that they can be simply popped in the post - something you wouldn't have been able to do with gift-bags. To finish, fill the box with tissue paper in shade 'Pale Blue' this will match your logo perfectly, and add a real gift element to your packaging to make it stand-out amongst other branded giveaways.
Best Wishes, The Packaging Doctor
Note: All the packaging problems our doctor receives are real queries from customers or non-customers.
If you have a packaging problem that needs diagnosing
get in touch on Twitter @kitepackaging
or email packagingdoctor@kitepackaging.co.uk