How to present gifts in a hamper like way – The Packaging Doctor
Packaging comes in all shapes and sizes and due to the versatility of packaging, things can often have many different uses. We often see packaging being used purely as something to protect the inner product, so it's nice to see it being used for presentation purposes, today we meet Kerry who is looking for a way to present the baby hampers she makes….
Dear Doctor,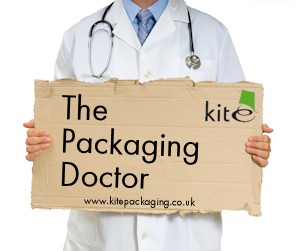 I produce hampers for all types of occasions. In order to keep the price down, I am looking for a way to present my baby hampers, as the purchase of a wicker type basket comes out at around £10-15 so adds an awful lot on top as I like to fill them with lots of baby treats, do you have any lower cost alternatives.
I hope you can help.
Thank you,
Kerry
Hi Kerry
Thank you for your question here in the surgery; it's always nice to see our packaging being used for presentation purposes and we are sure we can help.
We would simply suggest using a white postal box for the outer. These come in a range of sizes, therefore ensuring you can find the correct size to suit the different priced collections you offer. These are highly presentable and quick to assemble white corrugated boxes, making them perfect where presentation matters.
Lastly I would propose using with our wood wool, a light bio-degradable void fill made from shredded timber. It is extremely popular within the gift industry and commonly used in hampers, offering a well presented finish to any gift.
We hope these solutions work for you.
Best wishes,
The Packaging Doctor
Note: All the packaging problems our doctor receives are real queries from customers or non-customers. If you have a packaging problem that needs diagnosing get in touch: Twitter @kitepackaging or email packagingdoctor@kitepackaging.co.uk