How To Protect Furniture Corners And Edges – The Packaging Doctor
The Surgery Is Now Open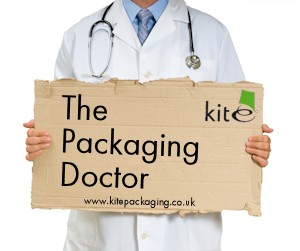 Hi Packaging Doctor,
I own a small furniture manufacturing company, which specialises in making kitchen cabinets. To protect the corners we currently use bubble wrap and tape to provide cushioning, however we also just stick the tape straight over the finished ends to protect the edges.
Currently the tape we use is a pain to remove and leaves a lot of sticky residue that is difficult to clean. We are looking for a tape that is either 25mm or 50mm wide and is easy to remove. Can you help?
Thanks, Martin
Hi Martin,
The choice of the right tape in this case is how important the removal is to you. For a clean and easy removal I would always recommend Vibac Masking Tape, this is because the tape uses a pressure sensitive low tack adhesive and is therefore easy to remove without leaving a sticky residue or causing damage – particularly useful if your products are painted or glazed.
Alternatively, if you prefer not to use masking tape, I would suggest using a tape with a water-based acrylic adhesive. This type of adhesive offers a higher tack and durability, however can also be easily removed leaving little to no residue. We supply a range of tape with this adhesive, however our Envirotape is perhaps the most popular – it features a smaller core to save on cardboard waste, and 150m on the roll (much more than the average tape length of 66m) which makes it more economical.
If you have your heart set on tape these are both great options, however we do also stock a wide range of edge protection which is often preferred to tape as it is easier to apply and remove, and provides better protection from impact damage. The most economical choice would be our solid board edge protectors, which start from just 13p each or for a more professional finish with further shock absorption our foam U-channel protectors cling tightly to delicate edges and start at just 26p per metre.
Best Wishes, The Packaging Doctor

Note: All the packaging problems our doctor receives are real queries from customers or non-customers.
If you have a packaging problem that needs diagnosing
get in touch on Twitter @kitepackaging
or email packagingdoctor@kitepackaging.co.uk