How To Protect Handmade Clocks – The Packaging Doctor
Packaging and horology - an unlikely pairing, but with many similarities! People who make time-keeping devices, such as clocks, are in my opinion both scientists and artists of their field. Making a beautiful clock requires not only a great mathematical mind, but also a creative one.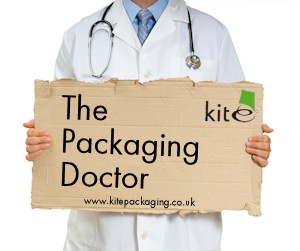 It is the same way with packaging, as a Packaging Technologist you need to know the exact fluting and millimetre cuts and folds to create something fit for purpose. However, you also need to know colours, and textures, and have a passion for quality design.
Of course, the two disciplines have a very clear cut difference – one can be easily broken and one can stop it from breaking! Clocks have a multitude of delicate parts, tiny cogs, thin hands, springs and highly finished surfaces which are prone to scratching.
Of course I have the answer to all these woes in today's post, so read on for my homage to all the horologists out there…
Hi Doctor,
I produce unique and individual handmade wooden clocks for a living. My customer base has now expanded from being within the local area to further afield so I need to ensure my packaging methods are effective.
I currently use your white postal boxes, which I really like as they are strong and look professional. However the current method of void fill I use is shredded paper inside the box, but it isn't really working as the clock handles are very delicate and I have had some customer's complain that they are broken upon receipt of their order.
What would you recommend that I use to stop this problem?
Thanks,
Colin
Hi Colin,
Thanks for your question in the surgery today. I have the perfect packaging solution up my sleeve that will leave you ticking over nicely!
Our foam inserts have been especially designed for use with our white postal boxes, and are in an egg-box style to cushion delicate products. Foam also works well as a grip material which stops products sliding and being damaged by shock – ideal for your clocks if they have small parts and handles attached.
To use, simply choose the size you need and insert one at the bottom of your box and one inside the lid, place your product inside and then fold down to 'sandwich' it between the two layers.
You'll be amazed by the amount of protection it gives – and its lightweight so won't impact heavily on your shipping costs.
Don't worry if we don't sell the exact size you need – these inserts can be cut to size very easily with a craft knife or scissors.
Best wishes
The Packaging Doctor
Note: All the packaging problems our doctor receives are real queries from customers or non-customers.
If you have a packaging problem that needs diagnosing get in touch on Twitter @kitepackaging or email packagingdoctor@kitepackaging.co.uk