How To Securely Post Long Products – The Packaging Doctor
The Surgery Is Now Open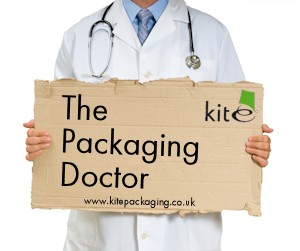 Help Packaging Doctor!
I never thought I would be writing in to you, but recently I started a business selling handmade lightsabers (replicas from the Star Wars films). It started when I made a friend one, and all of a sudden the demand grew. I've now quit my job and started my own business selling these - I need a low-cost way of packaging them so that they are protected in transit (I use a courier service) and can keep up with the increasing demand.
Thanks, Simon
Hi Simon,
Great to hear your business has done so well at such an early stage; I'm a bit of a Star Wars fan myself. We have a lot of queries from small businesses such as yours, and I'm not surprised as packaging is such a mine-field for those not familiar with it! I'm assuming these items are fairly long, so would suggest a postal tube as they will hold the products length most effectively, and reduce movement in transit. Our postal tubes range in length and diameter with the largest size being 1250mm X 152mm (LxD). For further protection you could also wrap the product in bubble wrap, the 'Jiffy Astro SupraBubble' is perfect for protecting delicate items and it is light-weight to reduce delivery costs. Bubble wrap works well in postal tubes as it 'pads out' the container, and is useful in protecting against vibration and possible climate damage.
May The Force Be With You, The Packaging Doctor

Note: All the packaging problems our doctor receives are real queries from customers or non-customers.
If you have a packaging problem that needs diagnosing
get in touch on Twitter @kitepackaging
or email packagingdoctor@kitepackaging.co.uk