How To Send Guitars Through The Post – The Packaging Doctor
The Surgery Is Now Open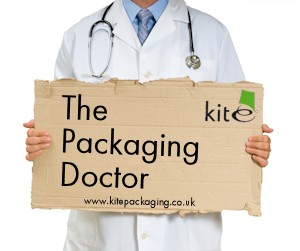 Hello Doctor,
I need to send a guitar through the post but I'm incredibly worried about damaging it as it was my late fathers and very precious to me. I am particularly worried about the strings and neck of the instrument being damaged in transit, as I know items can often get bashed around - what do you suggest?
Cheers, James
Hi James,
Instruments are fundamentally difficult things to package as they are often odd shapes and contain very delicate parts. For your guitar to start with I would protect the neck, chords and strings by wrapping the whole thing in pallet wrap. Extended core pallet wrap is easier to apply as you can grip the core at either end to smooth over products; medium duty wrap is 17 micron which is perfect for this type of application. It is puncture resistant and clings to itself so it will hold the strings in place and absorb and impact that may happen in transit.
The other challenge with packaging instruments is that the strange shape of them means that often standard box sizes isn't sufficient for packaging them snugly. You have two options for the outer packaging of the guitar, one is to use a wardrobe carton which is 20 x 18 x 48 inches - perfect dimensions for the width and height (assuming your guitar is a standard size) but slightly too big for the depth. To stop it moving around in transit, place the guitar in the box, remove the plastic hanging rail and fill the spaces with adequate void fill. I would suggest air cushions, for block and brace as well as general void fill.
Alternatively, you could create your own box using double wall cardboard sheets, simply place at the front and back of your guitar, use cardboard edge protectors at the sides and secure in place with lots of tape.
Good Luck, The Packaging Doctor
Note: All the packaging problems our doctor receives are real queries from customers or non-customers.
If you have a packaging problem that needs diagnosing
get in touch on Twitter @kitepackaging
or email packagingdoctor@kitepackaging.co.uk