How To Send Multiple Postal Tubes – The Packaging Doctor
The Surgery Is Now Open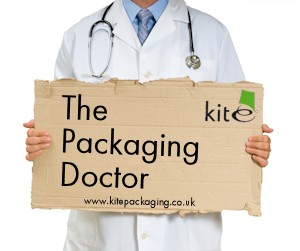 Hi Doctor,
I am a distributor, providing advertising posters to commercial space such as cinemas, billboard companies and other large spaces on behalf of brands. These are provided in batches of 100 and are individually packed in postal tubes with a diameter of 59mm and 490mm in length. I think I need a bespoke solution box which will transport the 100 postal tubes all together - can you advise?
Warm Regards, Greta
Hi Greta,
You certainly have a lot of postal tubes to package! Many people often ask me if they need a bespoke box for these types of exact measurements, however if you aren't buying large volumes you can usually save money by using a stock box and some void fill.
Taking the measurements of your boxes and doing some calculations it seems like our 610 X 610 X 610 mm double wall box would most suit your requirements. Because this is double wall it will provide that extra strength you need for supporting heavy posters, and these versatile measurements mean you can lay the postal tubes in the box or stand them up vertically. This box is also multi-scored so has an adjustable height, simply use a box cutter to cut the folds and fold down over the items, this gives you a much better fit without needing a bespoke solution. If you're unsure about how to adjust a multi-score box you can watch our demonstration video
In terms of void fill the best solution is probably polystyrene chips, which find their way in to each nook and cranny of a box and prevent products inside from moving around. You could also line the box with bubble wrap for a sturdy extra layer and impact protection.
Best Wishes, The Packaging Doctor

Note: All the packaging problems our doctor receives are real queries from customers or non-customers.
If you have a packaging problem that needs diagnosing
get in touch on Twitter @kitepackaging
or email packagingdoctor@kitepackaging.co.uk