How To Send Small Bottles – The Packaging Doctor
The Surgery Is Now Open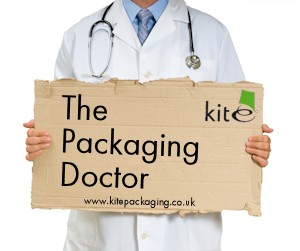 Hi Doctor,
I have just started an e-Bay business, which I hope to grow, selling nail varnish removers. The remover comes in a small 150ml plastic bottle; I want it to look professional and be protected to ensure it doesn't leak. Should I go for a box, bag or mailer?
Many Thanks, Carys
Hi Carys,
Congratulations on starting your new business, there is a great demand for beauty product on e-Bay so I'm sure your products will sell well. Often the problem with plastic bottles like the ones you describe is that the lid is very prone to cracking or breaking in transit, and this causes the product to leak.
For a professional looking, protective product I would recommend using a small box, a single wall should be fine for the type of product you're sending. I would then wrap the product in bubble-wrap to ensure it doesn't get damaged in the post and pop it inside the box, you could also add tissue-paper for a more attractive-looking finish. Alternative options would be using air cushions instead of bubble-wrap to protect the bottle; they look slightly more professional than bubble-wrap and are more cost-effective long-term - however they do require an initial capital investment for the air cushioning machine. I would also recommend white Arofol envelopes for a cheaper, space-saving solution, these white envelopes look great with a Kraft paper outer layer.
Good Luck, The Packaging Doctor
Note: All the packaging problems our doctor receives are real queries from customers or non-customers.
If you have a packaging problem that needs diagnosing
get in touch on Twitter @kitepackaging
or email packagingdoctor@kitepackaging.co.uk