How To Ship Bottles With Minimal Cardboard Use – The Packaging Doctor
The Surgery Is Now Open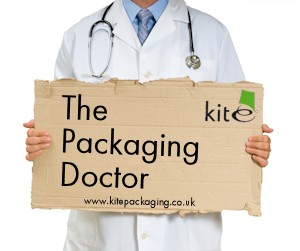 Dear The Packaging Doctor,
I am a small producer of soft drinks supplied in glass bottles and currently use a simple bottle box to package and ship my products. However, I would like to change to something that is slightly more professional looking, will save space and is more environmentally friendly than using lots of cardboard. Is there something you could suggest? I need to package 12 bottles at a time.
All the Best, Daniel
Hi Daniel,
A popular packaging product for the drinks industry, and glass bottles in particular is heat shrink film. That's the hard, plastic coating that you find around drinks bottles for bulk buy packs in supermarkets. I would suggest using a polyolefin or PVC shrink film for your product, as it would be retail facing and these materials offer a much better clarity, and PVC is produced to comply with food and drink standards.
For 12 standard size bottles I would suggest using a 600mm wide film so that you can easily wrap it round your products to keep all the bottles together, all our films are 600 meters long so you will have plenty of material to wrap a high volume of packs. Because you are a small producer I would recommend the desktop shrink wrap system to apply the wrap, this is a relatively simple system to use and this short video will show you exactly how to use it correctly. The full desktop shrink kit also comes with a shrink sealer so that you can quickly and easily cut the film to the right size.
I hope this was the answer you were looking for Daniel, good luck!
Best Wishes, The Packaging Doctor
Note: All the packaging problems our doctor receives are real queries from customers or non-customers.
If you have a packaging problem that needs diagnosing
get in touch on Twitter @kitepackaging
or email packagingdoctor@kitepackaging.co.uk