How To Ship Expensive Glass Bottles – The Packaging Doctor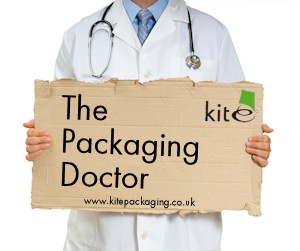 We've been talking a lot recently to our various media partners about Christmas planning for retail – yes Christmas, really. Even though the summer is barely over Christmas is the word on everyone's lips in the business world as small and large retailers alike begin the planning stages for the seasonal rush. We did a little research earlier in the week and found that in December spending in the UK goes up by a whopping 60% - and is expected to grow even more as the economy begins to recover.
One of the biggest splurges at this time of year is food and drink, as we tighten our belts through the year Christmas is a great time to add a touch of luxury to your shopping basket. If you enjoy the odd tipple then you may choose a nice sherry to have with your Christmas dinner, or maybe a fancy bottle of champagne? Today's patient has made a great little business out of selling some of the rarest and most renowned beverages in the world – but how do they package these beautiful bottles? Read on to find out!
Hello Doctor,
I have been collecting vintage ports, champagne and wines for a number of years now and was lucky enough to inherit a large collection from my father. However there is simply too many now and after selling a few bottles at a local wine fair I have decided to branch out and sell individual bottles online. These bottles start at £100 each so naturally it is imperative that they do not get broken.
It would be great to get a solution that almost guarantees safety for glass; I also require boxes for shipping to customers. Can you help?  
Thanks,
Colin
Hi Colin,
Thanks for your question; I have the perfect solution for you.
I would recommend our Air Shock; this is an air cushioned packaging system that uses tough, inflatable pouches to protect your product. It is a lightweight but strong packaging solution that is ideal for transporting fragile and breakable items through the courier network such as bottles and ornaments.
Benefits of the Air Shock include that they are light weight, space saving, presentable and are quick and easy to handle. All you have to do is simply place your prized bottles inside one of our specially designed pouches and inflate so that a protective cushion of air surrounds the product.
The bottle pouches create a highly protective cushion and can considerably help to reduce breakages and other damage, reducing returns and ensuring your bottles reach their destination as intended. The pouches are available in a variety of sizes too, so even if you are sending a case of wine or a single bottle of champagne you have a solution, they also come with outer boxes so there is no need to order these separately.
The perfect solution for shipping expensive bottles like yours, happy shipping!
Best wishes,
The Packaging Doctor
Note: All the packaging problems our doctor receives are real queries from customers or non-customers.
If you have a packaging problem that needs diagnosing get in touch on Twitter @kitepackaging or email packagingdoctor@kitepackaging.co.uk