How To Ship Large Televisions – The Packaging Doctor
The Surgery Is Now Open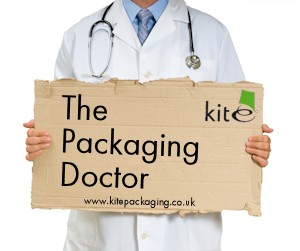 Hi Doctor,
I bought some LCD TV's in a recent sale when an electronics company went bust, and now am re-selling them through e-bay to try and make a profit. I've searched high and low for a box that fits but these TV's are huge, and I mean huge, so I need something else. Trouble is I don't know what! Can you offer any advice?
Hope you can help, Matt
Hi Matt,
How many did you buy? Sounds like a lot! This is fairly simple, for a cost effective solution - so you don't have to cough up high packaging and postage prices - I would recommend buying a roll of our anti-static bubble-wrap to initially wrap the product in - this will not only protect the device against aesthetical damage but will ensure no static electricity gets to the product and causes internal damage. To secure it into place so that it is sturdy place a double wall cardboard sheet at the front and back of the product so that it can withstand any impact and tape together so that it is securely in place. This will basically act like a box would but solves the size issue, and means you don't have to go to the trouble of trying to slide a huge TV set in to a snug box.
Happy Selling, The Packaging Doctor
Note: All the packaging problems our doctor receives are real queries from customers or non-customers.
If you have a packaging problem that needs diagnosing
get in touch on Twitter @kitepackaging
or email packagingdoctor@kitepackaging.co.uk