How To Transport Chickens – The Packaging Doctor
At Kite we are passionate about sourcing great new products for all of our customers, whether they are protecting products, waste removal or transportation. We have recently launched FIBC bags and rubble sacks for customers in the building construction industry, to help provide reliable, tear-resistant solutions for building waste and materials.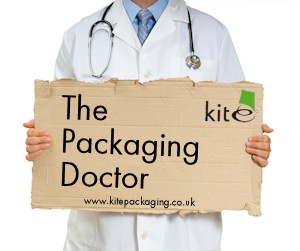 We pride ourselves in giving you all the information you need to use our products effectively. Through our helpful videos and images on the website, our weekly blog posts, and my surgery, we help you stay informed about the latest innovations and discoveries in the packaging world, and how to make the most of your products.
Today in the surgery we see a farmer, who is looking for a packaging method to take her chickens to market. Read below for my latest egg-cellent diagnosis…
Hi Doctor,
I own a working farm. We have all sorts of animals on our land, from chickens to cattle, which keeps us busy all year round.
We have recently decided to start trading our livestock, and are starting with our chickens. I need a solution to be able to transport them from the farm to market.
It is essential that the method allows them to breathe. What would you suggest?
Thanks,
Helen
Hi Helen,
Thanks for your question in the surgery today. I have the perfect solution for you.
Take a look at our Enviro-Box with hand holes. These boxes are specifically manufactured to deliver greater security and support during transit.
Our 30 x 18 x 18 boxes are the ideal choice from our range, as they provide sufficient height and width to comfortably fit your chickens. The boxes are finished with hand holes on either side, which circulates airflow, and allows the animals to breathe. Of course, it also makes carrying the box much easier for you, allowing you to pick it up carefully.
This method is really easy to implement. The boxes will arrive flat packed, so simply assemble the box on demand, place your chickens safely into the box, place the lid on top, and you are ready to go.
As well as being easy to use, your chickens will also be protected against movement, and the darkness inside of the box will minimise their stress levels during transit.
There you have it; it's amazing what a cardboard box can be used for!
Hope this helps!
Best wishes,
The Packaging Doctor

Note: All the packaging problems our doctor receives are real queries from customers or non-customers.
If you have a packaging problem that needs diagnosing get in touch on Twitter @kitepackaging or email packagingdoctor@kitepackaging.co.uk