Is The Packaging Pressure On This Christmas?
Is The Packaging Pressure On This Christmas? Kite Investigates....
Christmas feels like it's getting earlier each year but for brands the pressure is already on to make seasonal packs stand out from the crowd.
After a tough year financially, many businesses are reliant upon making increased sales this festive period and many are investing in packaging as a means of raising price points, making their products look more attractive and to catch the attention of the flagging consumer.
Here at Kite this is a topic we feel passionately about and in fact we have commented on this issue in the latest edition of Packaging News!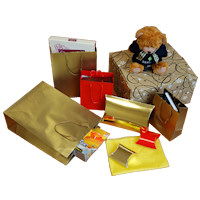 If you are not offering a unique take on a product or service, you risk the chance of
Getting lost in the crowd
Not having a strong enough point of view that separates you from your competition and we all know what happens when you can't separate yourself from crowd
Whether it's a can of Coca Cola or the Tiffany's signature blue box I bet most of you can spot a brand simply by the packaging even if you are too far away to read the font! Consistent packaging has helped to classify those brands as 'the best' and instantly recognisable, but what if you are a new brand or you are revamping a current line with a dose of brand marketing?
IT IS EVEN MORE IMPORTANT TO FIND THE RIGHT PACKAGING!
Packaging designers have an extremely difficult task because their product needs to be eye catching enough to attract the consumer but not so slick that people feel they're paying a high price just for the packaging.
Here at Kite we recognise that whether you are a big brand or a smaller seller, this Christmas packaging is extremely important, even if you are just using it to wrap gifts for your clients.
One of our most popular products here at Kite is our range of Wine Bottle Bags. We also sell bottle gift boxes, that provide protection as well as decoration, and 6-bottle wine cardboard boxes for storing / transporting bottles.
Alternatively, for customers looking for that 'wow factor' the range of pillow gift boxes are perfect for smaller presents.
Whatever you are looking for this festive season why not take a look at our extensive range and impress your customers and clients this Christmas!