Kite Launches New Blog And Analyses The Value Of Packaging To Your Business
This week we are all extremely excited about the official launch of our new packaging blog! We will be using it to talk about the latest industry news, issues and to talk about what we are doing at Kite to make your buying experience an enjoyable one!
Over the last few weeks we have been looking at the value of packaging to your business. Whether you buy cardboard boxes from us or use our compliance tools, all too often packaging is the last thing to be considered when increasing business and reducing profit margins.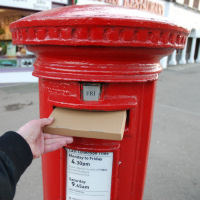 How often do you deal with customer returns because the product was damaged in the post or in storage? Good packaging saves you money!
Consider your product's journey to the customer. Does it have sharp edges that need cushioning, or delicate parts that need holding securely in place? If your goods are being sent through the post, will the packaging fit through a standard letter box or have to be left on the doorstep?
Here at Kite we have come up with four key considerations for analysing the value of packaging: