Kite Packaging acquires Phoenix Box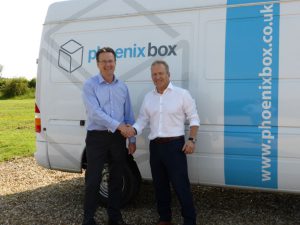 We have officially announced the acquisition of Phoenix Box – a £2.5 million packaging distributor based in Northamptonshire.
Founded in 1993, Phoenix Box has grown to be a £2.5 million business and is a market leader in the specialist JIT & Direct Line supply of corrugated cases and other packaging consumables, throughout the UK, and has worked with a number of high profile companies.
The operations at Phoenix box will be overseen by Kite Managing Partner, Paul Mustard, who is also responsible for Kites other branches in the South East, which includes operations in Harlow and Sittingbourne.
Bruce McInnes, Kite's Chairman commented: "Phoenix Box fits very well with Kite's branch focus on major customers requiring service-and-solutions. With access to Kite's NDC's comprehensive range of standard packaging, Phoenix Box will now be able to be a sole-supplier of packaging to many of its large customers. In addition, Kites technical support teams – stretch film and in-the-box solutions – will be available to Phoenix Box to support future sales growth".
For more information on Kite's products and services please visit www.kitepackaging.co.uk
-ends-